The international fashion industry is warming up for the next round of Fashion Weeks in September & October, showcasing and setting trends for the next Spring/Summer season. No other industry is influenced as strongly by trends and seasonality – what better occasion to take a closer look at how to best conduct keyword research for fashion ecommerce websites?
The majority of standard SEO practices apply to fashion ecommerce sites, however how do you do find and pick the right keywords when seasonality plays such a big role?
We will introduce you to some approaches to a solid keyword strategy in this ever-changing industry, and how you can predict search trends to stay ahead of your competitors.
From Pinterest to AdWords
Pinterest is an excellent platform to get an idea of currently trending and upcoming trends for the season. Even though it doesn't deliver hard data such as search volumes for specific keywords, you will quickly get an idea of what designs, materials, colours and patterns are hot, to set you off on the right track. You can create topics around these trends to then validate trends in AdWords and Google Trends.
Around this time last year we were scrolling through endless boards featuring Kimono Trenchcoats and Obi Belts, big trends of the Spring/Summer season. A search in Google AdWords' Keyword Planner confirmed the trend and offered up more insights into possible colour and material combinations.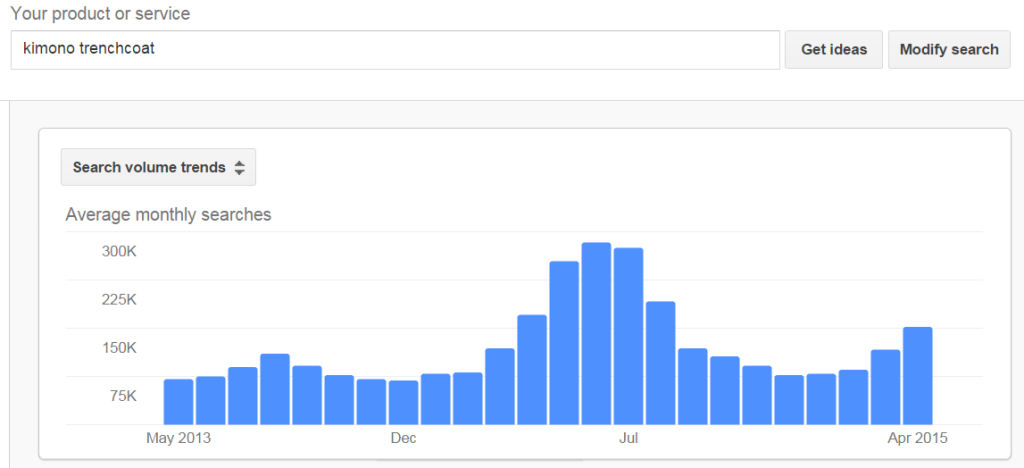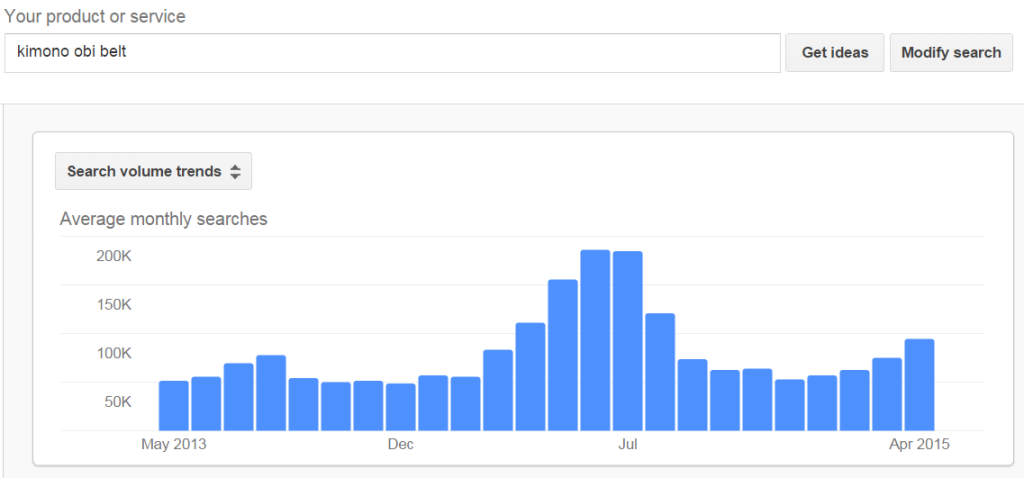 Pantone's Colour of the Year & Fashion Colour Reports
Any breed of designers will keep an eye on trending colours, and Pantone is the number 1 go-to source, undoubtedly best known for their forecasting and colour matching system. Make sure to check out Pantone's Colour of the Year and their seasonal Fashion Colour Reports, to get an idea of which colours you should include in your keyword research.
2014's Colour of the Year was "Radiant Orchid", so when you check search volume trends over the last two years, the spike in searches for "orchid dress" is significant.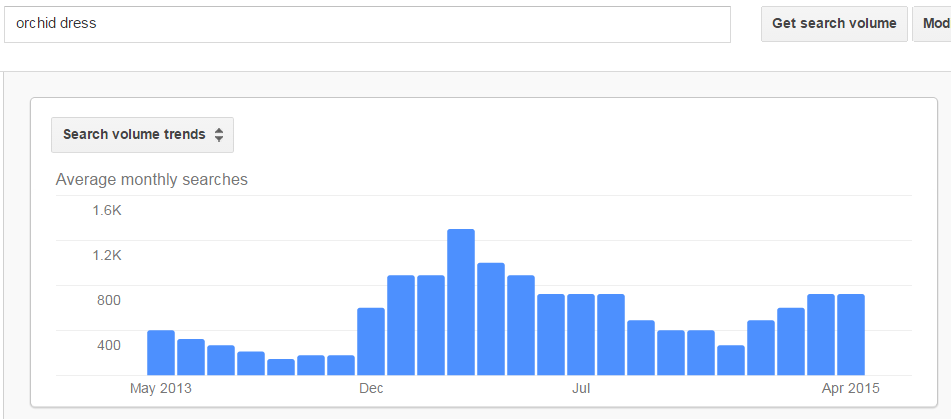 2015 is the year of "Marsala" – and certain enough, Google's trend data below for "marsala dress" speaks for itself.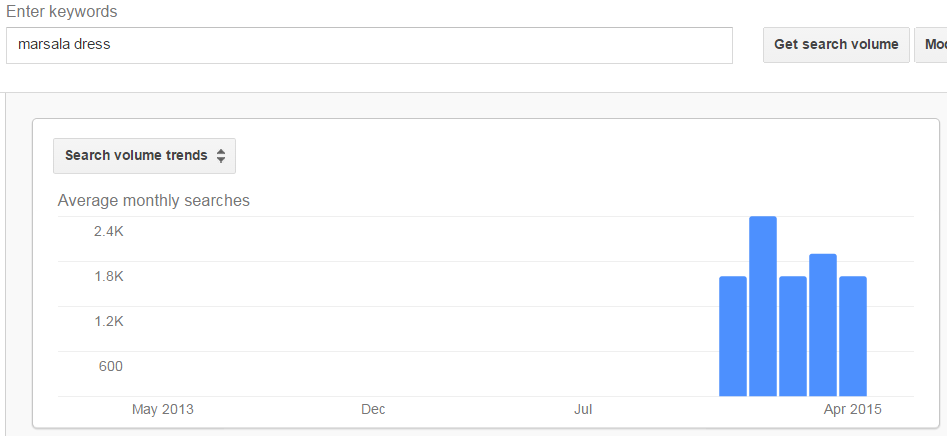 Google Trends
Google Trends is still the tool to dig into recent changes and trends in search queries. Below is a screenshot of rising topics and search queries for the last 90 days in the UK.
Unsurprisingly, as outside temperatures in the UK are rising, so are searches for summer dresses, maxi dresses and textiles such as kaftan. SEOs often neglect Google Trends during keyword research, but within the fashion industry, it is an absolute must to strategically prepare for the next season.
Internal Search
Hopefully your Ecommerce site offers an easy-to-use and visible search function, which can be a great indicator for trends. Make sure you have the site search function in Google Analytics enabled and monitor queries on your site, to identify keywords you should be aware of.
Brand Names
Once you've narrowed down your keyword list, make sure not to ignore brand names. Users often look for items from particular brands they saw in magazines or social networks. Your keywords should complement the brand and product names, however they should not replace them.
Conclusion
Stay ahead of trends in the fashion industry through editorials, social networks, Pantone's colour forecasting, and back up your clues with data from Google Trends and the Keyword Planner. For your specific site, pay attention to your visitors' search queries, your product catalogue, and brands you offer.
The most important piece of advice we can give: be specific! Colours, patterns, styles, materials, V- or turtle neck, … these features play key roles in fashion trends, and will drive your visitors' search behaviour.
Are you overwhelmed by the sheer amount of competition in the fashion industry? Advertising costs are much too high? Get in touch and we will show you how to make sure your customers can find you through natural search, no matter the season.