When you're running an international business, it is no doubt important to be aware of how well you are performing in your target markets.
Regardless of whether you have one website or several for each of the locations you serve, Google Analytics data can help provide priceless insights into your site's performance, flag up trends over time, and show your users' behaviour in each of your countries.
For international SEO campaigns, it is crucial to analyse your data segmented by region and/or language. Only this way can you be certain what is or isn't working, and inform your strategy moving forward.
The two most important Analytics dimensions for your international strategy are:
Geo Location
Geo Language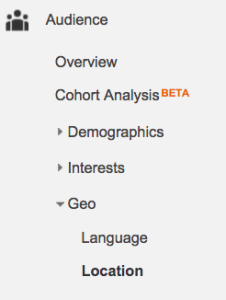 You can get a general overview of your website's performance by going to Audience > Geo
To gain deeper insights, pair the location or language with traditional key metrics segmented for organic search, such as
Sessions & Users
New Sessions
Bounce rate
Conversions
Conversion rate
Goals & Events

If you are targeting a region rather than one single country, such as the DACH region, it can be useful to create a segment which contains Germany, Austria and Switzerland. This will allow you to monitor your performance for the entire region, whilst still being able to break down your data for each of the countries.
You may find that certain technologies vary heavily from region to region, so it is worthwhile to pair locations with secondary dimensions, such as
Make sure that your website displays well on all devices and browsers. You can even go ahead and check the browser version your users are on, which can sometimes lead to interesting correlations between bounce rate and IE version.
Do you serve the same content in each country? Dive into the top organic landing pages segmented by country to find out differences in landing page performance.
Additionally, make sure to also check which pages receive the highest number of organic pageviews.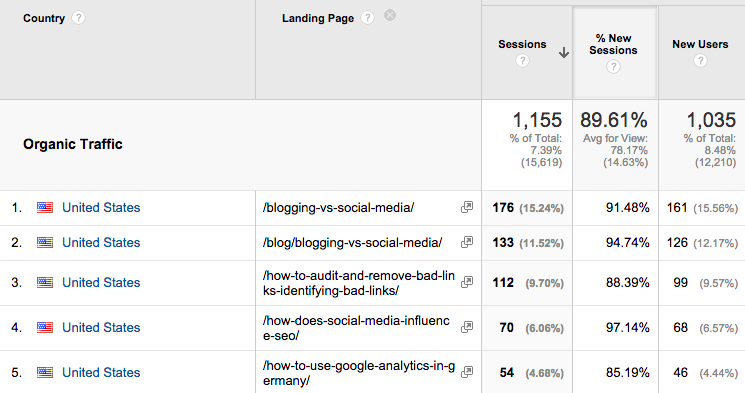 SEOs often take for granted that Google is the No1 search engine worldwide and mostly optimise in-line with Google best practices. But in many countries, other search engines have a large market share, so it is important to find out how you are performing on Bing, Yandex, Baidu, Yahoo, and Ask.com if these have a strong presence in your target countries.
Discover which keywords are driving your traffic in each of your markets. Depending on local competition, search volume and brand awareness, you will find that very different keywords may become important for your SEO strategy. You will most likely hit the (not provided) keyword wall in Analytics, so you'll need to take a look at Google and Bing Webmaster Tools to gain these insights. Both tools provide organic search term reports which you can filter by country.

Are you actively building relationships and links? Don't forget to check which referrals provide you with the most valuable traffic.
Pro-Tip
Exclude spammy referral traffic from your Analytics data. If you are targeting Russia or the Middle East for example, you may be excited to see a sudden increase in traffic, but it may turn out that your site has had unwelcome visitors, as spambots often hit you from locations such as Russia, Qatar, Ukraine, Turkey, Slovenia, Saudi Arabia and Co.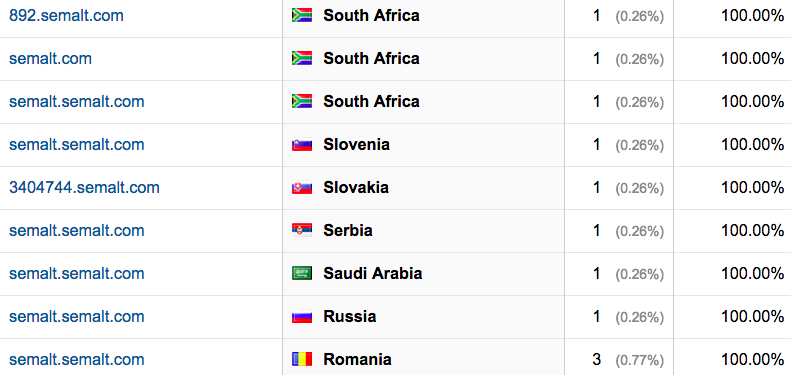 List of secondary metrics to pair with country:
Sessions
Users
New Sessions
Bounce rate
Conversions
Conversion rate
Goals
List of secondary dimensions to pair with country:
Events
Devices
Browser
Keywords (Google & Bing Webmaster Tools)
Landing pages
Pages with most page views
If you need help with your international SEO strategy or support to evaluate your data, get in touch with our multinational team here at Serps!