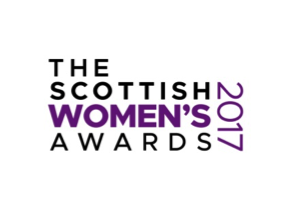 Creative Oceanic are proud to announce the first ever Scottish Women's Awards 2017. They aim to acknowledge and celebrate the achievements of women entrepreneurs, business women, professionals, civil servants, charity workers and many more that help make Scotland great. Thousands of nominations were received from the public over the past months and the full list with finalists has now been compiled.
The black tie event will be held at Crowne Plaza Hotel in Glasgow on Wednesday the 30th of August.
Felicitas Betzl, MD & Founder of Serps Invaders Ltd., Edinburgh, is one of the finalists in the "Business Woman of the Year" category. The finalists will find out if they have managed to win the competition and win an accolade at the elegant ceremony being held at the end of August.
"The last year has brought a lot of change and growth, not only for Serps Invaders by opening an office in Barcelona, but also for myself. In July we finally launched the Beta version of my new venture Rockifi, a Rock and Alternative music ticketing & community website. It would be fantastic to celebrate all our achievements with this prestigious award but it has already been an honour to be nominated as one of the finalists." comments Felicitas Betzl
The inaugural Scottish Women's Awards will celebrate the amazing breadth of talent and the hard work of female professionals and entrepreneurs in the country.
The glamorous event promises to be the biggest and most unforgettable night in this year's events calendar. Numerous prestigious accolades will be awarded to the most deserving individuals and establishments, including Online Business of the Year, CEO of the Year, Creative Industries Leader of the Year, Woman of the Year and many more.
Irfan Younis, CEO of Creative Oceanic said: "We are delighted to see so many people getting involved in the inaugural Scottish Women's Awards. We have had a fantastic response from the public and we are looking forward to welcoming and acknowledging the most dedicated and successful Scottish women in a celebration of their tireless work. We would like to wish all the finalists the best of luck."
Ends
(Note to Editors)
About Serps Invaders
Serps Invaders are an award winning, full-service international digital agency with offices in Edinburgh, Scotland and Barcelona, specialising in cross-channel multilingual digital marketing strategies. Serps offer online marketing services in 35 languages, which makes us one of the top multilingual SEO and digital marketing partners for our client base. The company now also offers full digital design & build services with the expansion of their team to include award winning Creative Director Ruaridh Currie who has provided creative solutions for world famous brands such as Channel 4 & Tottenham Hotspur in the last few years.
Serps stands for Search Engine Results Pages.
For further information, please contact Felicitas Betzl (Managing Director)
felicitas@serps-invaders.com | +44 (0)131 208 3669
Web: https://serps-invaders.com
Twitter: @Serps_Invaders
Facebook: http://www.facebook.com/serpsinvaders
About Creative Oceanic
For further information on The Scottish Women's Awards please follow the link on Facebook
https://www.facebook.com/TheScottishWomensAwards/
For more information regarding the event contact Creative Oceanic on 01 902 0004 or email events4@creativeoceanic.com
Creative Oceanic, website creativeoceanic.com. For more information regarding the event or media related information please contact Creative Oceanic UK   08448793256, Republic Of Ireland 019020004 or email media@creativeoceanic.com
Creative Oceanic are organisers of all aspects of the Awards from the event management through to the public and media relations aspects. We organise over 30 awards a year in Glasgow, Manchester, Birmingham, London, Belfast and Dublin.